The big day had finally arrived! There's no doubt that in the United States, they have bigger and better award shows than anywhere else in the world. The Nickelodeon Kids Choice Awards allow the children of the world have their say as they pick their favourite celebrities of the year – something that I believe is super important.
This year, the orange carpet was one of the longest ever and saw tons of celebrities walking down as they entered the Galen Center in Los Angeles. After a long 26 hour journey, I finally took my spot on the orange carpet alongside Hungary to my right and Australia to my left just moments before the chaos took place.
While many of the bigger celebrities just had their picture taken, we were lucky enough to grab the likes of Alli Simpson (sister of Cody Simpson and up-and-coming musician), Glee's Lauren Potter and Jayma Mays (Becky and Emma), Drake Bell, Sophia-Grace and Rosie, David Hasselhof and X Factor USA Winners Alex and Sierra.
The main show was a slime filled success which finally saw host Mark Whalberg get the sliming of his life! Other celebrities such as Pharrell, John Cena, Selena Gomez, Austin Mahone, Kristin Bell and Ariana Grande attended the spectacular.
It was interesting to note how often the celebrities moved seats because of a performance, presenting gig or plain just wanting to beat the rush after the show. That's exactly what Selena Gomez did after winning her award for Best Female Singer. It's stuff like that that one doesn't often see.
All in all, this was one of the best experiences of my life. I loved the hustle, chaos, the tears, joy and, of course, the slime! Hopefully I will be able to go back there as soon as possible.
Here is the full list of winners followed by some pictures:
Favorite Male Singer: Justin Timberlake
Favorite Cartoon: SpongeBob SquarePants
Favorite Reality Show: Wipeout
Favorite Female Buttkicker: Jennifer Lawrence, The Hunger Games: Catching Fire
Favorite Voice from an Animated Movie: Miranda Cosgrove, Despicable Me 2
Favorite Movie Actress: Jennifer Lawrence, The Hunger Games: Catching Fire
Favorite Movie: The Hunger Games: Catching Fire
Favorite Animated Movie: Frozen
Favorite Male Buttkicker: Robert Downey Jr.
Favorite Movie Actor: Adam Sandler
Favorite Song: "Story of My Life," One Direction
Favorite Music Group: One Direction
Favorite TV Show: Sam & Cat
Favorite TV Actor: Ross Lynch
Favorite TV Actress: Ariana Grande
Favorite Female Singer: Selena Gomez
Favorite Funny Star: Kevin Hart
KCA Fan Army Winner: Selenators, Selena Gomez
Favorite Video Game: Just Dance 2014
Favorite App Game: Despicable Me: Minion Rush
Favorite Book: Diary of a Wimpy Kid series
Most Enthusiastic Athlete: Dwight Howard

Myself on the Orange Carpet!

I LOVE these two!!

Cody Simpson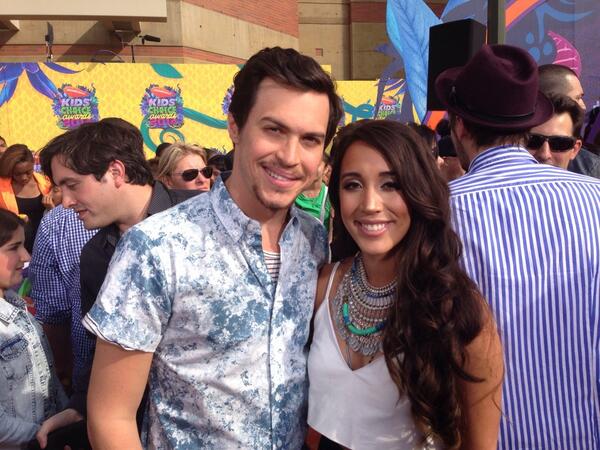 X-Factor USA Winners Alex & Sierra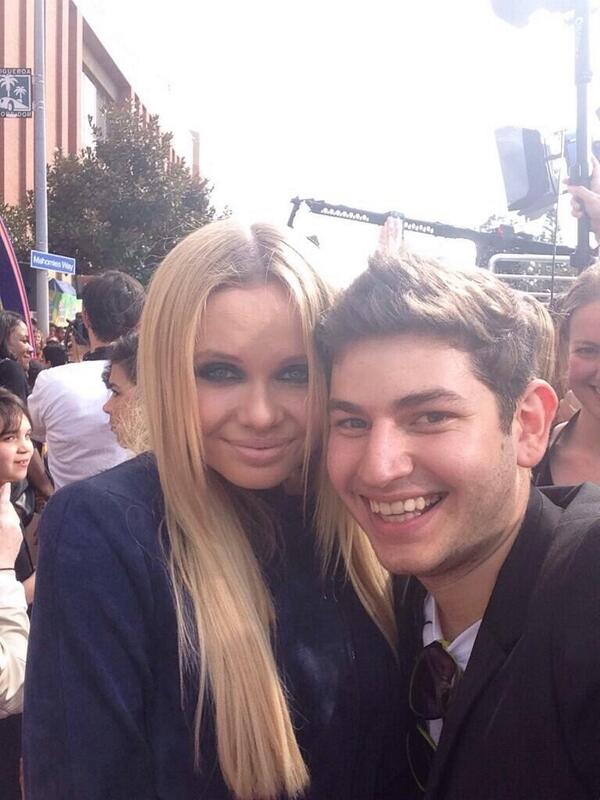 Cody Simpson's sister Alli.
Austin Mahone performing MMM Yeah!
Please feel free to comment, share or tweet @ElBroide