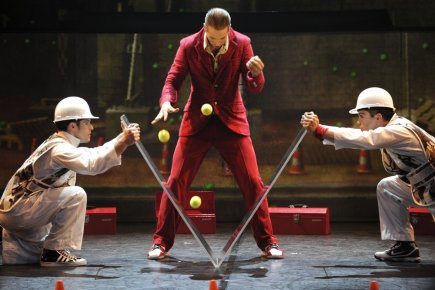 The world of Cirque shows quickly and easily transport viewers into a different world and while each is visually beautiful, non seem to come close to the energy seen in the brand new Cirque Éloize iD.
I've attended many shows over the past few years and I sometimes feel as if I've seen it all but that was definitely not the case with this production. Despite the incredible amount of energy, the show was beautifully put together.
The thing I loved is that each act was so different from the previous one and really managed to keep everyone entertained throughput the entire show.
The set was absolutely fantastic! Lights were projected on the backdrop and managed to create various surroundings while still keeping the performers comfortable. The graphics that were projected were great as well and one could clearly see that time, effort and money was put into this.
Then, the music! What a fantastic soundtrack the show had! From powerful hip-hop inspired beats so delicate symphonies, this show had it all!
Cirque Éloize iD also had a great bit of crowd interaction. On opening night, the performers chose radio DJ Alex Jay to join them on stage as a guy on a bicycle jumped over him. It was a great piece to sort of "break the ice."
This show is fantastic and one of the best I have seen in ages. The show is on now at the Teatro at Montecasino and tickets are available from Computicket.
Feel free to comment, share or tweet @ElBroide