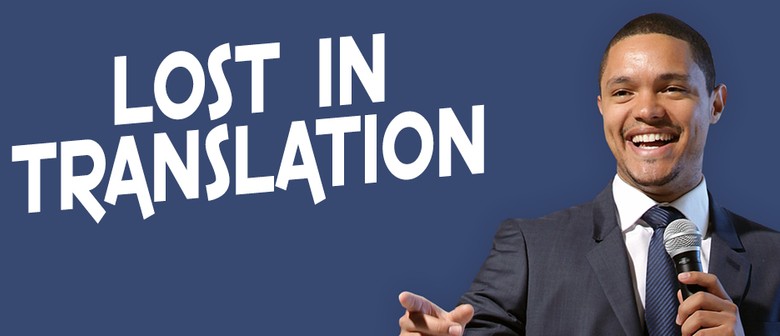 He is the beaming pride and joy of South Africa and before he heads to the United States for his new job as the host of Comedy Central's 'The Daily Show', Trevor is putting on a show at Montecasino's Teatro – and it could be the last time we see him perform here for a while! The show, titled Lost In Translation, is the latest of Noah's one-man shows and sold out almost instantly, prompting Trevor to add more and more shows to the already impressive number of shows.
The show's opening act is Cape Town comedian Schalk Bezuidenhout. I remember watching him a few years ago and he really stuck out of the crowd at a comedy showcase so I was excited that Trevor chose him as his opening act. Luckily, Schalk didn't disappoint. There is a bizarre innocence to Schalk and it's something that has helped so many relate to him. On the evening, he spoke about Apartheid times and reminisced on a story when he performed in his old school choir which was "the most racist thing he has ever participated in". Why? I guess you will find out when you're at the show! Needless to say, he had the crowd eating out of the palm of his hands.
As Trevor walked onto the stage, it was clear just how many fans he has. I mean, he sold out the Teatro for over a month! Do you know how insane that is? I think it's clear that Trevor has a natural charisma about him and that translates both on stage and on television. This makes him incredibly likeable and it helps that many of his jokes basically involve him telling you stories that have happened in his life over the past year.
Trevor has done incredibly well over the past few years and he shares this all with his audience in this show. From attending his first major celebrity event, The MET Gala, to not knowing what to do in front of the camera to load shedding to race and politics. I was a bit worried his political jokes would be somewhat controversial or one that would involve a lot of research, however, Trevor spoke about Jacob Zuma's recent laugh he had in parliament and where he assumed that laugh came from. Luckily, he hit the nail on the head with that one and the crowd was loving it!
My favourite moment of the show was when Trevor described his visits to the local supermarket and how the lady at the till enjoys some small talk with him. Not only that, but she looks at each and every item in his basket and has some comment about it. Naturally, I won't ruin the punchline but Trevor used brilliant accents, movements and words to make the joke epic! My favourite of the evening.
I liked the fact that Trevor mixed and matched various topics in his set – many that we wanted to hear about his life, some ranting and some awkward stories. I can totally understand why the show is such a hit and why Trevor has come as far as he has. He even makes some of his colleagues look like total amateurs at times. The show was absolutely brilliant and I can't wait for his first episode on The Daily Show.
Feel free to comment, share or tweet @ElBroide